Our Maker Market is chock full of artists from our community who make everything from paintings to leather to unique electronics.  Again this year, our makers are not reselling anything – it all comes from them.  This post highlighting our makers is the sixth in a series – be sure to check them out during Penguicon!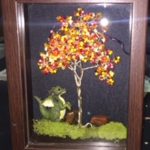 Christine's Unique Creations. LLC
After a devastating diagnosis of MS Christine became inspired to create beautiful things after reading a story about a woman who would create items out of found sea glass.  Knowing she needed to stay busy in order to stay positive she turned to her love of crafting to create a fantasy world made with silver cover wire art and resin jewelry. Her one of a kind pieces include semi-precious stone, beautiful colors and unique shapes.
---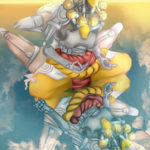 Marco Kawasaki is a digital artists that sells buttons, prints, keychains, and stickers from multiple fandoms from cartoons to anime to comics and more!
---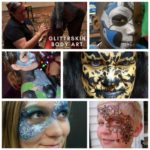 On-demand face & body painting and SFX to complete your cosplay or simply get you looking more sparkly and festive, or undead, robotic, animal… whatever! Artist Sarah Metzler uses pro-grade materials applied by hand or airbrush to create 2D or 3D effects that are comfortable to wear all day long.
---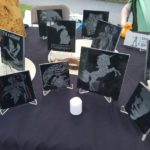 Nicole and Brad named their business for their young daughter, whose is named after a constellation. They create items in granite and glass that are etched with their original and your custom designs. They also capture lightning in wood, and produce fabric, vinyl and leather arts. From sewn to stone, we'll help you make it your own.
---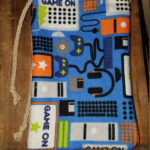 The Unicorn and Narwhal's Trove
Geeky crafting is totally a thing at Penguicon and The Unicorn and Narwhal's Trove provides you with a few things to add to your collection.  Con survival throw blankets, dice bags, and stuffed plush narwhals.
---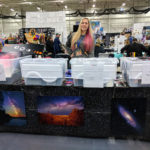 Brian Ottum obsession started when he was 12 and saw a lunar eclipse. He has be looking skyward every since.  He takes pictures of space, using my remote-controlled telescope located in the New Mexico desert (while sitting in my basement here in Michigan).  Bring the stars a little closer with a mounted image from Brian's collection, some consist of 12 hours worth of exposure time.
---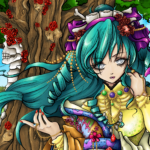 Xenogenic Comics
Xenogenic Comics proudly brings you three original comics as well as a huge selection of fanart! We do art prints, orginal comic prints, stickers, mystery bags and more!