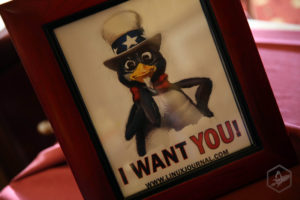 Penguicon is a non-profit volunteer run conference! Many people contribute their time to help make Penguicon happen because they want to give back to our community. We want you as part of our team! Please consider putting a few hours into volunteering – it's a great way to meet people, and a solid way to contribute to our community.
---
Here is an example of available roles to volunteer in!
ConSuite-available at various times throughout the weekend
Beer Troll-Checking IDs and Serving Beer and Cider
Door Dragon-Check to ensure that all who enter have a badge
Minion-Assist with restocking stations and maintaining general order of the ConSuite
Ops-Runs 24 hours throughout the weekend
Ops Desk-Answer questions from all who approach the desk, assign 

volunteers

 after hours, register or members after hours, assist with programming issues, general help desk
Program Ops-Start movies, inform Program Ops Staff member of programming issues, put up room schedules, do walk through to make sure presenters have what they need, do event attendance counts
Accessibility Penguin -Assure that walkways are clear, help mark off wheelchair areas in rooms for programming, ensure that members with accessibility issues are not overlooked during peak times at the elevator
Registration-available at various times throughout the weekend
Reg-Assist with registering members, handing out presenter packages, creating badges
Programming-Hours vary based on position
Food Track-Assist with room flips and clean ups after LN2 demos
LN2-Check ids during alcohol based demos
Escape Room-Help man one of the Escape rooms
Retro Gaming-Help with set-up/tear-down of event, act as games librarian during event
5K Run-This is an early Sat. morning event, set-up/tear-down of signage, manning water stations
Logistics-Thursday and Friday Morning-before 3pm hours count for double. Sunday after 6pm and Monday morning.
Minion-This position is a lot of lifting and moving.  Unpacking truck, helping with ConSuite set-up, laying down plastic in food room and ConSuite.  

Sunday

 after 

6pm

 and Monday morning-packing truck and tear-down of ConSuite.
Hotel-Friday only from Noon-8pm.
Hotel Minion-This is a 

Friday

 only position and is new this year.
Greeter Desk-Friday 4pm-8pm, Saturday 10am-7pm
Greeter-This position does not count for 

volunteer

 hours and specific for veteran Penguicon members.  If you like to share your experience with new members and don't mind asking where Reg is 100 times this is a great place to 

volunteer

.
---
All volunteers should be at least 10 years of age, and anyone under 16 must bring their parent or guardian to the volunteer table with them to confirm that they know what is going on. Note: we have had several youth volunteer in the past, they are a great help!
Please contact our Head of Volunteers at volunteers@penguicon.org to save yourself a spot!