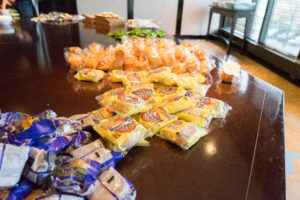 ConSuite is where you will find food and drinks throughout the convention. Everything in ConSuite is included with your badge purchase! You will need your Penguicon badge in order to enter the ConSuite. Based on attendee feedback, this year in ConSuite we will offer more prepackaged foods, more options for protein-based snacks, and more seating!
Hours
Friday:    3:00 pm to 2:00 am
Saturday:    7:30 am to 2:00 am
Sunday:    7:30 am to 3:00 pm
Note that the ConSuite will remain open from 2:00 am to 7:30 am as a space to hang out, but it will not be staffed. Please keep your ConSuite tidy and clean up after yourself!
Drinks
You'll find water, juice, LaCroix sparkling water, and a variety of Coke, Pepsi, and Faygo beverages in our pop-stop, located near the main entrance to the ConSuite.
Grab-and-Go Snacks
We'll have lots of prepackaged snack options available in case you need a quick snack between events!
Light Meals
Light meals will be available around meal times throughout the convention.You'll find these foods being served inside the Board of Trustees room inside the ConSuite.
Beer and Cider
Beer and cider will be available in the ConSuite from 4:00 pm to 1:30 am on Friday and from noon to 1:30 am on Saturday. You will need to show your ID for each drink. No alcoholic drinks can be taken out of the ConSuite. You'll find beer and cider being served inside the Board of Governors room inside ConSuite.
Teaologie Teas
Teaologie Teas will be returning to Penguicon again this year! Come to ConSuite to try their delicious teas. New this year — if you find a tea you enjoy, look for the Teaologie table where you will be able to purchase tea!
PenguiLounge
New this year, we are adding the PenguiLounge to ConSuite, where you will find more space to sit with your food and drinks! Check it out in the Board of Directors room inside ConSuite.
Gluten Free and Vegetarian/Vegan Options
We aim to provide lots of gluten free and vegetarian/vegan options in Consuite. These should be labeled. If you need more information, just ask ConSuite staff.
Accessibility
Please pay attention to the traffic flow patterns marked on the floor to ensure everyone can access the ConSuite. Should you need to warm up your own food, there will be a microwave available in ConSuite. We will also have a water bowl available for service animals – just ask ConSuite staff.