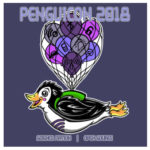 A Brief Intro to Sched.
www.penguicon2018.sched.com

Sched is the scheduling application we are using this year for Penguicon. It's an easy-to-use site, complete with both Apple and Android apps. Search for Penguicon'18 in either iTunes or the App Store.

There are MANY search options. You can search for a keyword, a speaker, or under "Types" to find everything under any of our Programming Tracks. You can also determine what is going on in a particular room all weekend, or what is happening across all rooms at a particular time. On the website, most of these search options are found along the right side of the page. On the app, they are found by clicking the three bars at the upper left side.

The schedule can be viewed by time, by room, or (on the website) as a grid showing both options at once.
By creating a profile for yourself, or logging into an existing Sched profile, you'll be able to add events to your own personal schedule, and you can even export that schedule to your Google Calendar, iCal, Outlook Calendar, or your own manually-created calendar via download. You can also share your schedule with others! Links for these options are all found here:
https://penguicon2018.sched.com/mobile-site

Also, please be aware that you are able to set your profile to Private, which will hide you and your schedule from all other views. This is done under "My Account", once you've logged in.

For ease of info-availability, searching for the word "errata" will bring up any changes made to the schedule that will differ from what is in the printed schedule book. The info in Sched will be the most accurate and up-to-date information available, and any changes will be noted there.