The Maker Market applicants have been selected for 2018! We are looking forward to having a Maker Market that is better than ever full of our community artists and makers!  We do have a wait list – if you'd like to be contacted if room opens up, please email makermarket@penguicon.org requesting to be put on the wait list!
Secure Room Hours:
Friday – 4pm to 9pm
Saturday – 10am to 9pm
Sunday – 10am to 3pm
Maker Market – Secure Room (Windover)
---
Atticus McFadden-Keesling lets the organic movement that comes from the process of forging influence his designs.  Forging everything hot, using a mechanical hammer, hand hammers, anvil, and many chisels he is able to move the metal like clay.  Check out his one of kind pieces that include dragon bottle openers, wine racks, and wall hooks.
Hand turned art for daily enjoyment. Fountain pens, roller-balls, ball points, and pencils in wood, acrylic, stone composite, and other materials. Pepper-mills, kitchen items, sewing tools, crochet sets, and other items for home use. Brad's focus is to create beautiful and practical art for everyday use.
After a devastating diagnosis of MS Christine became inspired to create beautiful things after reading a story about a woman who would create items out of found sea glass.  Knowing she needed to stay busy in order to stay positive she turned to her love of crafting to create a fantasy world made with silver cover wire art and resin jewelry. Her one of a kind pieces include semi-precious stone, beautiful colors and unique shapes.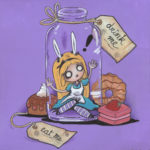 Crystal Mielcarek
Drawing since she was a young child Crystal has followed her passions creating unique one of a kind pieces.  Crystal is a  graduate of the College for Creative Studies with a Bachelor of Fine Arts in Illustration, and has been included in more than 20 group shows and 3 solo shows across the country.
Earthenwood Studio's Melanie Brooks creates quirky illustrations on paper and on ceramic wares from her Metro Detroit, Michigan home studio. Kawaii inspired robots, monsters, and other silly critters dance around her artworks, shouting out sassy quotes, random geekery, and witty words of advice.
Pronounced 'façade' and inspired by the chaotic masquerade scene in Labyrinth, Tamara has been making high quality leather wearable art masks and headdresses since 2007. She experimented with using Inkscape and the laser cutter, but soon decided she missed the hands-on aspects of her process.  
Jessica and her mom Teri offer a variety of wood-burned fan based art pieces including plaques and wooden boxes.  They also offer sculpted works, unique OOAK jewelry pieces of leather, sculpts and metal.
Everyday Gear for the Everyday Geek. Geeks with Scissors focuses on making practical, high-quality items that are geared toward the serious geek. Skirts, wallets, purses, notepads, pillows and tribbles (trust us. tribbles are practical)… all handmade by a couple of sisters with a pair of scissors.
Gunpowder Cosmetics are passionate about a few things: cats, health and beauty, and having a good time! They love making beauty products with fun fragrances from quality ingredients, and want to share that with others who are looking to improve or add to some aspect of their beauty regimen. 
Level 8 Craftling makes leatherwork for geeks! All pieces are hand-crafted by Kell Carnahan who is an engineer and leatherworker who crafts unique dice bags, bottle carriers, card game organizers, journal covers, fur-lined hooded capelets and more. Repairs and custom design work done by request.
Nicole and Brad named their business for their young daughter, who is named after a constellation. They create items in granite and glass that are etched with their original and your custom designs. They also capture lightning in wood, and produce fabric, vinyl and leather arts. From sewn to stone, we'll help you make it your own.
Alayna Robinson is a self proclaimed fanartist that selling handmade steampunk leather cuffs and chokers. She also draws realistic portraits of anime characters and their counterpart cutesy chibis that she sells as prints and buttons.
Melissa Francis is a self taught artist that creates original and fan-based illustrations. She specializes in chibi, kawaii, and anime styled illustrations that she then creates as a variety of fun items including stickers, magnets, pillows, pins, and bags.
Local Michigan company that creates unique handcrafted chainmaille accessories, scalemaille costumes, and mixed metal jewelry pieces!
OffWorld Designs has original t-shirt designs including the 2018 Penguicon t-shirts. Stop by for great shirts designed for fans of SF, Fantasy, Gaming, Comics and more!
Tabitha Kush has been knitting or crocheting since before she was even in school.  Since then she has been perfecting her ability to make adorable things out of yarn.  So, if you need a penguin or perhaps a squid to cuddle during con you should stop by and see QuietNova Studios.
One of a kind art, comprised of Polymer Clay, mixed media and vintage faire.
Beautifully handcrafted leather covers of your favorite novels that make something new look old again. Other nerdy gifts will also be available such as notebook covers, bracelets, magnets, and buttons.
David Foley makes one of a kind rings that he fashions into chainmail jewelry and other unique pieces.
Ties that Bynde Designs specializes in high quality steel boned corsets. Offering a variety of styles and sizes you can stop by the booth to find your perfect fit.
Megan Emelander has always loved old things and making old things new again.  She created The Well Read Nerd because books hold a special place in many people's hearts and she wanted to sell things that shows love for all things books and reading. Most items use pages from rescued books in one of a kind jewelry and home decor items, and those that don't, have book quotes or a book theme to them.
Geeky crafting is totally a thing at Penguicon and The Unicorn and Narwhal's Trove provides you with a few things to add to your collection.  Con survival throw blankets, dice bags, and stuffed plush narwhals.
Maker Market – Hallway
---
Brian Ottum obsession started when he was 12 and saw a lunar eclipse. He has be looking skyward every since.  He takes pictures of space, using my remote-controlled telescope located in the New Mexico desert (while sitting in my basement here in Michigan).  Bring the stars a little closer with a mounted image from Brian's collection, some consist of 12 hours worth of exposure time.  
What happens when you cross an engineer with an artist?  You get The Crafty Dyborg run by Darcy Davis. Specializing in modular origami creations which includes 30-piece hanging ornamental balls or kusudama, lantern kusudama, 120-piece cranes, and a special edition scientist kusudama.  
Have you ever thought something and thought, I wish I could hang that on the wall?  Cassie Boyd makes that happen with Sassy and subversive cross stitch designs. Handmade and framed in wooden embroidery hoops.  Her themes include subversive phrases, retro, cult classic movies, TV shows, gaming, and general cuteness. Custom designs are also available.  
Dragon Booty Workshop is a hand-made gaming accessory business that thinks gaming can be more enjoyable with simple tools to help organize the gaming table. Booty Boxes are handy dice boxes that have space for your dice to be stored as well as your gaming book and clipboard.
Mairi Mundy-Dowd is freelance Graphic Designer who also works in other areas like woodworking, jewelry making, and sewing. She has always had an interest in bones and began creating jewelry out of her supply of sustainably sourced bones.
On-demand face & body painting and SFX to complete your cosplay or simply get you looking more sparkly and festive, or undead, robotic, animal… whatever! Artist Sarah Metzler uses pro-grade materials applied by hand or airbrush to create 2D or 3D effects that are comfortable to wear all day long.
Jillian Osbourne-Hawkins has been studying and practicing the art of applying henna since graduating with her art degree over five years ago. Her designs range from bold and unexpected to delicate and lace-like but will always leave you feeling like you have been transformed.  Stop by her table for your Henna body art and temporary glitter tattoos! Choose from a ready-made designs or custom work. All henna is 100% natural, plant based, and made by the artist; glitter and adhesives are cosmetic quality.
Meghan and Matt Zelensky sell unique, one of a kind, items.  Their signature items are their faux fur hats that will help you spice up your cosplay, or help bring out your inner beast! They also sell shirts with their own designs, decals, and a few cosplay hoodies! Come find something as unique as you are!
Marco Kawasaki is a digital artists that sells buttons, prints, key-chains, and stickers from multiple fandoms from cartoons to anime to comics and more!
After Jessica Rowland graduated from art school she looked for a way to bring her art to life in products that were useful and brought smiles to the people that owned them.  She has achieved that goal with her line of functional home goods featuring pop culture references using a laser engraver and paint.
AJ Bouthillier makes bags with a little bit of this and a little bit of that for all your geeky needs.
If you are looking for the opportunity to glimpse into the mind of an artist who dreams of color palettes that are inspired by nebulas you will want to visit Tao By Design's booth.  Among their offerings are pillows that are as soft as clouds and shiny things to make sure you keep keys from getting lost in the great beyond.
Xenogenic Comics proudly brings you three original comics as well as a huge selection of fanart! We do art prints, orginal comic prints, stickers, mystery bags and more!