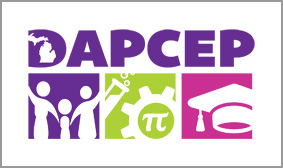 This year, we are sponsoring the Detroit Area Pre-College Engineering Program (DAPCEP) as our charity. DAPCEP partners with universities, training programs, and K-12 school systems in order to connect youth to the best science, technology, engineering, and math (STEM) educational experiences in Michigan.
They teach nanotechnology, renewable energy, robotics, programming, chemical and mechanical engineering, math of all kinds, video game design, and entrepreneurism to youth in Metro Detroit. Their mission is to increase the number of historically underrepresented students who are motivated and prepared academically to pursue degrees leading to careers in STEM related fields.
Along with the spring and fall courses, they offer commuter and residential camps at Michigan universities in the summer. They have 40 years of experience improving the outcomes of the children they teach!
Come talk to a representative from DAPCEP at our charity table, and contribute to their success by donating. Speak with our Charity coordinator (Becky Hill) to participate in our raffle for prizes – 100% of the proceeds will go to DAPCEP.
Please message Becky if you'd like to contribute to the raffle!
Before Penguicon begins this year, our event has already gathered money for DAPCEP, and will also contribute all of the proceeds from returning our aluminum cans – join us at Closing Ceremonies to win the raffle and find out how much we've collected to help local kids learn science and technology!
Some of the raffle prizes will include:
One Night Complimentary Stay at the Westin Southfield-Detroit Hotel, plus Breakfast for Two in Tangos Restaurant [Friday or Saturday, based on availability] ($200 value)
THANK YOU, WESTIN!

Circuit Playground Express Advanced Pack ($99 value)
THANK YOU ADAFRUIT! (Penguicon Sponsor)

Two free tickets to attend Penguicon 2019 (up to $120 value).
THANK YOU, PENGUICON 2019 TEAM!
Marvel Avengers wall mural ($90 value)
AT-AT 6'6″ wall decal ($90 value)
Death Star battle 5′ wall decals ($90 value)
THANK YOU JESSICA ROLAND (next year's Chair)!

Kitty Key Rack ($25 value)
THANK YOU MIMOSA STUDIO! (Maker Market Vendor)

Wearable unicorn headpiece ($150 value) – Color may be different from photo
THANK YOU FACEODD WEARABLE ART MASKS! (Maker Market Vendor)

Chain link necklace ($50 value) – Color may be different from photo
THANK YOU THINGS FROM RINGS (Maker Market Vendor)

6″ Motawi Penguin Tile and Easel ($90+ value)
THANK YOU TRICIA QUICK!

Vincent the Skeleton plush doll ($20 value)
THANK YOU CREEPY KAWAII!

Purple 20-sided Die 12″ pillow ($55 value)
THANK YOU SAVING THROW PILLOWS!
(Note: The 20 position is a Penguicon logo!)

Dictionary Washer Necklace ($25 value)
THANK YOU THE WELL READ NERD! (Maker Market vendor)
THANK YOU!

Professional voice actor and former chair Nuri Gocay will record a custom voice mail message for you.
THANKS, NURI!

"3D-print my idea" service

"Want a statue of your cat? Have an engineering idea you want to hold in your hands? Daniel Dugan from E-nable will help you bring it to life."
THANK YOU DANIEL DUGAN!