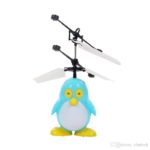 This year at Penguicon, attendees will be able to watch racers from Detroit Drone weave around tight corners and narrow spaces while overtaking competitors! Racers from Detroit Drone will be competing for trophies and con wide acclaim!
The schedule on Saturday, May 5th, will be:
11am: Open Controlled Practice
12pm: Begin Rounds
5pm: Trophy/Prize Presentation
If you are interested in participating and finding out more about the Local Drone User Group, please check out the Detroit Drone Group!