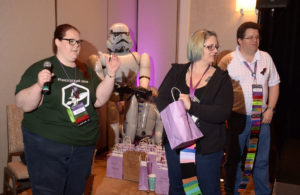 Thanks to you, we had a very successful raffle for this year's charity, The Detroit Area Pre-College Engineering Program (DAPCEP)!
Becky, our Charity Coordinator, was charming and inventive under pressure, and was a great volunteer her very first year with us! Not only did our con sponsors get involved by donating items, our community of makers submitted many items to the raffle over the weekend. We had over $1,200 in prizes donated to the raffle which took place just before Closing Ceremonies!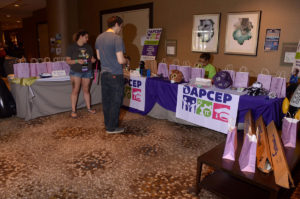 Combining the donations at the convention, the Chair's private screening of Ready Player One before the event, tips given to next year's Chair for her performance at the Burlesque show, and the sales of some old convention-owned laptops, we are donating $2,124.67 to help children learn STEM and head into STEM careers. That's the most we've raised for a charity in over a decade! Additionally, the folks at DAPCEP tell us that some of our attendees want to get involved personally in their programs.
Thank you, Penguicon attendees, for making a difference in our community.