What a fantastic weekend!  We had record breaking attendance this year; 1,686 of you ate and drank us out of the ConSuite this year – good job! 🙂
You really stepped up this year in terms of charitable giving, and because of that Penguicon has donated a whopping $2,124.67 to DAPCEP, the STEM education charity for Detroit youths.  Thank you so much to everyone who took the time to speak to them about their Charity, volunteered, participated, and donated.  It was wildly successful, thanks to you!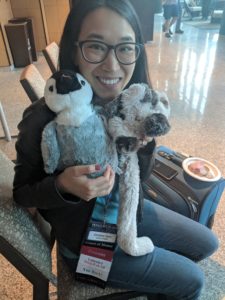 Penguicon attendees crammed The Geeky Burlesque room full to bursting –  I've never experienced such positive energy in a room. The talented performers were amazing!  The Guest of Honor talks were packed; the Dark Web talk by Johnny Xmas was absolutely excellent.  The PenguiLab 2.0 was wildly successful at hosting its first Capture the Flag event! The Robo Melee was so worth the extra effort that staff and volunteers put in, it was so fun and unique! Thanks, guys!
The new location for the Bookstore was a huge hit. Our authors brought a ton of books (and a few games!) and we sold them like hot cakes!  Thanks so much to the team that pushed through the complicated details all year long to make this a reality.
The Cosplay Contest was bigger than ever! As I understand it, there was even some singing involved from our judges 😛
I could write a book about all of the cool moments I experienced or was told about this year at Penguicon.  As Chair, I couldn't have asked for a better year, with amazing staff, volunteers, presenters, and attendees. You made the dream a reality. <3
It's been an honor to work for you, and I can't wait to help Jessica as next year's Assistant Chair. I can't wait to see what 2019 has in store! If you'd like to be a part of making it awesome, email Jessica Roland at conchair19@penguicon.org! She will be stepping up from Head of Volunteers to take on 2019, and the convention absolutely couldn't be in better hands.
Additionally, if you have feedback, we'd love for you to leave it here!
Here's what you've all been waiting for, multimedia from Penguicon 2018!
Photos:
Videos by attendees:
If you have any additional videos, photos, or event reviews you'd like added to this post, please email me at conchair18@penguicon.org 🙂