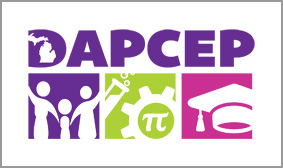 This year, we are sponsoring the Detroit Area Pre-College Engineering Program (DAPCEP) as our charity. DAPCEP partners with universities, training programs, and K-12 school systems in order to connect youth to the best science, technology, engineering, and math (STEM) educational experiences in Michigan.
They teach nanotechnology, renewable energy, robotics, programming, chemical and mechanical engineering, math of all kinds, video game design, and entrepreneurism to youth in Metro Detroit. Their mission is to increase the number of historically underrepresented students who are motivated and prepared academically to pursue degrees leading to careers in STEM related fields.
Along with the spring and fall courses, they offer commuter and residential camps at Michigan universities in the summer. They have 40 years of experience improving the outcomes of the children they teach!
Come talk to a representative from DAPCEP at our charity table, and contribute to their success by donating. Speak with our Charity coordinator (Becky Hill) to participate in our raffle for prizes – 100% of the proceeds will go to DAPCEP.
Please message Becky if you'd like to contribute to the raffle!
Before Penguicon begins this year, our event has already gathered money for DAPCEP, and will also contribute all of the proceeds from returning our aluminum cans – join us at Closing Ceremonies to win the raffle and find out how much we've collected to help local kids learn science and technology!