Is it already 2018? Shaken off your Last Jedi-spiced, nog-induced Saturnalia stupor yet? You'd better—because it's time for another 2018 Guest of Honor announcement!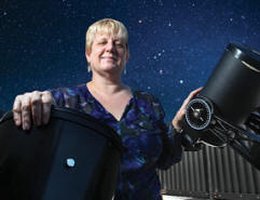 Our third Guest of Honor is Dr. Kristine Larsen! Kristine is Professor of Astronomy at Central Connecticut State University in New Britain, Connecticut. Her teaching and research focuses on the intersections of science and society, including the history of women in science, and science and popular culture.
In particular, her work focuses on depictions of science and scientists in the works of J.R.R. Tolkien (Perilous and Fair: Women in the Works and Life of J. R. R. Tolkien), Neil Gaiman (The Mythological Dimensions of Neil Gaiman), Andrzej Sapkowski, Phillip Pullman, and George R.R. Martin (among others). She has also examined film and television series (especially Doctor Who—The Mythological Dimensions of Doctor Who—and zombie media). She is also the author of Stephen Hawking: A Biography, The Women Who Popularized Geology in the 19th Century, and Cosmology 101.
Kristine is also the president of the American Association of Variable Star Observers, and shares her home with assorted misfit cats and rabbits.
We can't wait for Kristine to be here in May!
Hang on to the edge of your seat – there's more still to come!