If you'd like to follow this year's Guests of Honor and Featured Guests on Twitter, we've created a public list – Special Guests for 2018!
Guests of Honor are provided travel and lodging expenses, and have a lifetime membership to attend Penguicon.
Featured Guests are presenters of note that we would like to highlight this year, and are provided a free membership for 2018.
---
GUESTS OF HONOR
MARK OSHIRO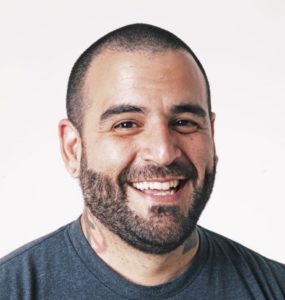 Mark is the Hugo-nominated writer of the online Mark Does Stuff universe (Mark Reads and Mark Watches), where he analyzes book and TV series. He was the nonfiction editor of Queers Destroy Science Fiction! and the co-editor of Speculative Fiction 2015 with Foz Meadows. He is currently the fiction editor for Efniks, an online magazine for queer and trans people of color (if you're interested in submitting a story, see http://efniks.com/submissions/) and also the President of the Con or Bust Board of Directors. His first novel, Anger is a Gift (Amazon, Goodreads), is a YA contemporary about queer friendship, love, and fighting police brutality. It will be released by Tor Teen on May 22, 2018.
You can check out Mark further on Patreon, Twitter, Facebook, and Instagram. When he is not writing, crying on camera about fictional characters, or ruining lives at conventions, he is busy trying to fulfill his lifelong goal: to pet every dog in the world.
---
JOHNNY XMAS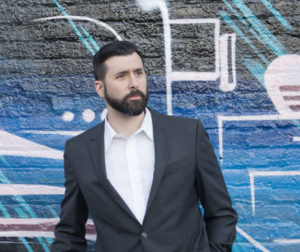 Johnny is a Security Researcher at Uptake, a company dedicated to ensuring safety, reliability, and security of  industrial environments.  Johnny's been speaking internationally (both in and very far outside of the infosec community) on the topics of information security, career advancement, and social engineering for nearly 20 years. His infamous mixture of humor, raw sincerity, and honest love of people often leads to a lighthearted, but (at its core) serious, discussion around our innate desires to get in our own way.
Recently, he was one of the masterminds behind the reproduction and leaking of the TSA Master Keys from 2016-present (with a final 006 in the works). The purpose of this was to help educate the public on the dangers of rotationless key escrow, such as that which the government is requesting for all of our digital communications.
You can check out Johnny further on Twitter and YouTube.
---
DR. KRISTINE LARSEN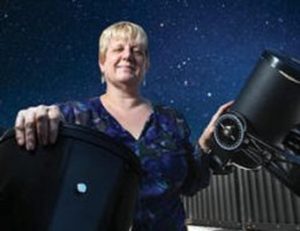 Kristine is Professor of Astronomy at Central Connecticut State University in New Britain, Connecticut. Her teaching and research focuses on the intersections of science and society, including the history of women in science, and science and popular culture.
In particular, her work focuses on depictions of science and scientists in the works of J.R.R. Tolkien (Perilous and Fair: Women in the Works and Life of J. R. R. Tolkien), Neil Gaiman (The Mythological Dimensions of Neil Gaiman), Andrzej Sapkowski, Phillip Pullman, and George R.R. Martin (among others). She has also examined film and television series (especially Doctor Who—The Mythological Dimensions of Doctor Who—and zombie media). She is also the author of Stephen Hawking: A Biography, The Women Who Popularized Geology in the 19th Century, and Cosmology 101.
Kristine is also the president of the American Association of Variable Star Observers, and shares her home with assorted misfit cats and rabbits.
---
CHRISTINE SUNU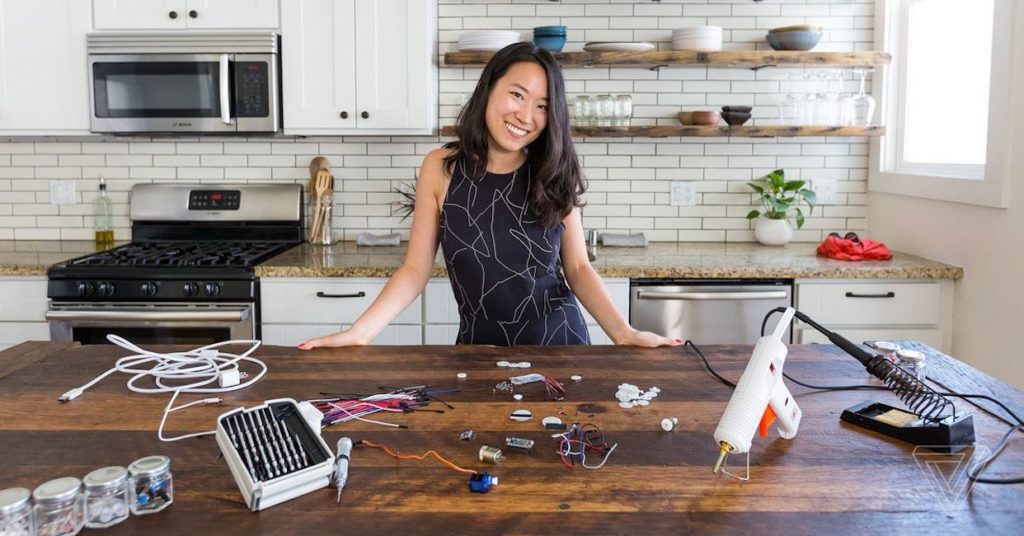 An interface designer, Christine (per her Twitter bio) builds things. The things she builds vary, but her focus throughout it all is on interfaces hooking into human behavior and expectation. She believes the level of complexity in tactility, geometry, and human factors in connected interface design requires understanding and experience with people and interfaces from non-digital fields. Her multidisciplinary experience with the digital, physical, and human allows her to create effective and successful experiences for users.
Christine has implemented developer experiences and run IoT workshops, designed interfaces for patient motivation in high-stakes settings, made trending content on electronics, and created hardware and software for research in bleeding-edge fields. She started and runs HackPretty (read more about why she started HackPretty), built robots at BuzzFeed, run hackathons at Particle, just finished up Everyday Bots on The Verge (this was her favorite hack), and spoken at TEDx and Hackaday about the weird psychological line between alive and not-alive in technology.
---
MARY ANNE MOHANRAJ
Mary Anne is one of our talented Guests from the Writing Excuses Podcast!  Additionally, she is the author of Bodies in Motion(HarperCollins), The Stars Change(Circlet Press) and eleven other titles.
Bodies in Motion was a finalist for the Asian American Book Awards, a USA Today Notable Book, and has been translated into six different languages. The Stars Change, a Sci-fi novella, and finalist for the Lambda, Rainbow, and Bisexual Book Awards.  Mary Anne founded the Hugo-nominated magazine, Strange Horizons, and serves as Executive Director of the Speculative Literature Foundation.  She has taught at the Clarion SF/F workshop, and is a Clinical Associate Professor of English at the University of Illinois in Chicago.
Additionally, her writing can be found in Clarkesworld, Asimov's and Lightspeed magazines.  Some of her upcoming work includes Survivor (SF/F anthology of trauma and survival stories) and Perennial (breast cancer memoir/romance).  Keep track of all her upcoming projects on her website and Facebook.
---
MARY ROBINETTE KOWAL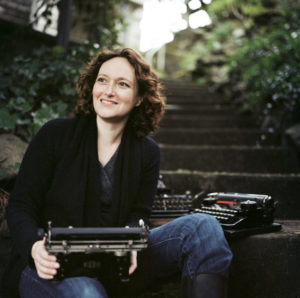 Mary is the author of historical fantasy novels: The Glamourist Histories series and Ghost Talkers in addition to being a host on the Writing Excuses podcast! She has received the Campbell Award for Best New Writer, three Hugo awards, the RT Reviews award for Best Fantasy Novel, and has been a finalist for the Hugo, Nebula, and Locus awards. Her stories have appeared in Strange Horizons, Asimov's, several Year's Best anthologies, and her collections Word Puppets and Scenting the Dark and Other Stories.
As a professional puppeteer and voice actor (SAG/AFTRA), Mary has performed for LazyTown (CBS), the Center for Puppetry Arts, Jim Henson Pictures, and founded Other Hand Productions. Her designs have garnered two UNIMA-USA Citations of Excellence, the highest award an American puppeteer can achieve. She records fiction for authors such as Kage Baker, Cory Doctorow, and John Scalzi.
Mary lives in Chicago with her husband Rob and over a dozen manual typewriters. You can check out Mary's projects for 2018 on her website, and don't forget to check out the 2018 Writing Excuses Cruise!
---
AMAL EL-MOHTAR
Amal has won the Hugo, Nebula, and Locus awards for short fiction, and has won the Rhysling award for poetry three times. She reviews books for NPR, was recently appointed the Otherworldly columnist for the New York Times, and lives in Ottawa with her spouse and two cats. Her work has appeared in magazines such as Tor.com, Fireside Fiction, Lightspeed, and Strange Horizons, and in anthologies such as The New Voices of Fantasy, The Djinn Falls in Love and Other Stories, and The Starlit Wood: New Fairy Tales.
A novella co-written with Max Gladstone called This is How You Lose the Time War is forthcoming in 2019 from Saga Press. Keep up with all upcoming work online at her website or on Twitter.
---
MAGIC MEEPLE GAMES
Magic Meeple Games is an independent tabletop games design, development, & publishing company based in Phoenix, Arizona and co-owned by Ian and Trish Stedman.
MMG began when a good friend, and Gamelyn Games founder, Michael Coe approached Ian and Trish to co-publish a project with him. Ian and Trish (who have over 15 years combined involvement in various games industries) officially formed MMG in 2015. Ian has had a lifelong passion for gaming and is the designer of Magnum Opus from Clever Mojo Games and several other self-publishing projects.
Trish has been heavily involved with gaming conventions (including Phoenix Comicon, RinCon, and Crit Hit) for years as an experienced event planner. Then they debuted with a successful Kickstarter campaign for Darkrock Ventures (designed by Michael Eskue of Council of Verona/TableTop fame), followed that up with another successful Kickstarter campaign for Fire of Eidolon, and yet another for Overworld last year.
Keep track of all their upcoming projects on Facebook, Instagram, YouTube, BoardGameGeek, and their own website.
---
FEATURED GUESTS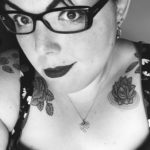 Mari Brighe – Mari is a professional essayist, journalist, critic, and editor. She has appeared in numerous outlets including INTO, Vice, Mic, Salon, Bustle, The Advocate, Autostraddle, and Everyday Feminism. She has particularly focused on criticism and analysis of queer and trans representation in television and film. She is also a professional sensitivity reader, providing authors feedback on queer, trans, asexual, and disabled characters and stories to ensure they are authentic representations. Mari is also a queer academic whose work focuses on utilizing queer theory and gender theory for developing a transformative understanding of social spaces, media, and education. She will be a featured presenter at a prestigious symposium on queer media representation, titled Further Beyond The Straight and Narrow, in April 2018

.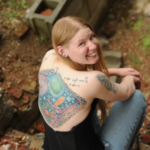 Karen Burnham – Karen Burnham is an electromagnetics engineer working for Ford Motor Company. Prior to that she worked in aerospace and defense spending several years at NASA Johnson Space Center and working on ISS, Orion, and later the Dream Chaser spaceship. Her other passion is literature and she has been a book reviewer for venues such as Locus Magazine, Strange Horizons, SFSignal.com, and Cascadia Subduction Zone since 2004. Her academic book on hard SF writer Greg Egan was published in 2014, and she was ConFusion's Science Guest of Honor in 2017. She is thrilled to be settling down here in Michigan where she lives in Dearborn with her husband, two geeklings, and a dog.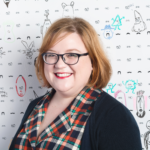 Anne Cahalan – 

Anne

 is an iOS developer Detroit Labs, where she is constantly delighted by the niftiness of Swift. Passionate about clean code, craft cocktails, and nice yarn, she dreams of an elegantly-designed app that pairs cocktails with knitting patterns. She is contractually required to mention her three-legged cat, Wobbles.
Karen Corbeill –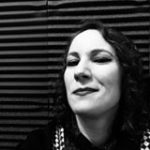 Karen

 is a Producer and Co-host of "The Ben Heck Show" on YouTube.  She used her maker skills to co-found The Bodgery, a Makerspace in Madison, WI. She is the previous president of i3Detroit, a local Makerspace. She retired from Power Racing Series (Modified Powerwheels Cars) with the most wins of any driver and her cosplay skills have been on display at many a Midwest conference. She is currently focused on STEM education and has her own show "The Learning Circuit" which does just that!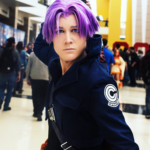 R K Grimm – Grimm is a voice actor, concept artist, sister of six brothers, pirate, cinefile, dungeon crawler, story teller and spends countless hours designing, creating and wearing cosplay for her favorite characters!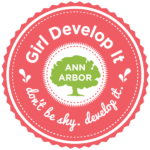 Girl Develop It – Girl Develop It is a non-profit organization that provides affordable programs for adult women interested in learning web and software development in a judgment-free environment.  With courses focusing on teaching modern development best practices and having something to show for it (ie. a sweet website, a native mobile app, a browser based game, a network of industry experts, or even a stellar résumé).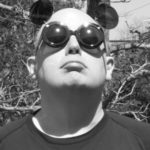 Michael W Lucas (GoH Emeritus) – After thirty years in Unix and thirty published books, Michael W Lucas now makes his living as a full-time author. His tech books includes the definitive works on FreeBSD and OpenBSD, as well as titles like "Networking for System Administrators" and the freshly-released new edition of "SSH Mastery." As Michael Warren Lucas he's written popular novels like "git commit murder" and "Immortal Clay." To his eternal chagrin, though, his best known fiction is his Linux erotica. Talk to him about writing, publishing, martial arts, pet rats, and gelato. Check out https://mwl.io for his autobiography, FAQ, and far too much information about his work.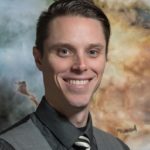 Jeff MacLeod – Jeff Macleod is a physics and astrophysics double major at Wayne State University, He is currently the President of the Warren Astronomical Society, a local astronomy club in Southeast Michigan. He has been obsessed with space his entire life, with a special place in his heart for NASA, cosmology, and Richard Feynman. When he finishes his schooling he hopes to apply to the Astronaut Corp at NASA. Oh, and he's a semi-professional juggler and unicyclist.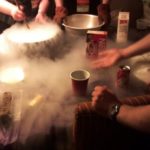 LN2 Crew! – Sarah Elkins, Phil Salkie, Lew Reynolds and Elizabeth Basala are your Liquid Nitrogen Crew this year! Did you know, nitrogen may be the element you encounter most on a daily basis – it's about 80% of the air you're breathing right now.  Compress it enough, and it will turn into a liquid – at 70C above absolute zero, far colder than the surface of the moon. Pour that into a tasty sweet mix of milk and cream, and you have ice cream – instantly!  Come learn more about the process, watch us make different flavors, and enjoy eating up the results!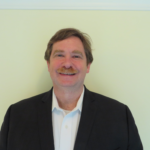 Curtis Potterveld – Curtis works for the Ford Motor Company on the Autonomous Vehicle program where he is a systems engineer modeling the vehicle architecture, functions, and interfaces. Prior to joining Ford, Curtis worked for Boeing and NASA on the International Space Station, Boeing's Starliner program and commercial satellites. Curtis has Master's degrees in Astrophysics, Aerospace Engineering, and Systems Engineering, and a Bachelor's degree in Physics.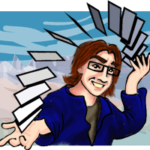 Nemo T Rathwald – Nemo designs and illustrates board games under a pseudonym, which is an anagram for Matthew Arnold.  His game "Overworld" was 500% funded on Kickstarter by Magic Meeple Games, and has distribution deals in Germany and France.  He laser-cuts his game prototypes at the local hackerspace i3Detroit, where he teaches classes on how to use Adobe Illustrator to create cutting paths for machine tools.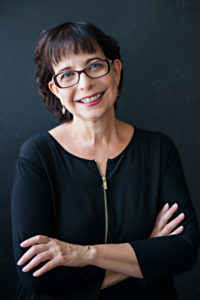 Hillary Rettig – Hillary is author of The 7 Secrets of the Prolific and The Lifelong Activist, and also coaches and leads productivity and time management workshops worldwide. Her work is unique in applying a power analysis to problems of underproductivity, and she especially enjoys helping those from disempowered backgrounds, or who work for social justice, become more joyfully productive. Many of those she works with are writers, artists, activists, academics, organizers, performers, or entrepreneurs. Hillary has written for, or been quoted in, many top publications; and she has also appeared on numerous broadcasts. She currently holds the position of Academic Productivity Project Specialist at Kalamazoo College, where she assists students and faculty with their productivity. Hillary is also a proud free software advocate, atheist, vegan, foster parent, living kidney donor, and animal rescuer.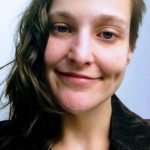 Adena Rottenstein – Adena earned her Ph.D. in Personality & Social Psychology from the University of Michigan in 2013. She currently works as a part-time lecturer at Eastern Michigan University. Dr. Rottenstein's work centers around the study of privilege and oppression with a special emphasis placed on the examination of people with disabilities as an oppressed minority group.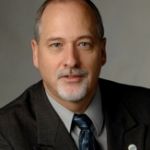 Charles Severance – Charles is a Clinical Associate Professor and teaches in the School of Information at the University of Michigan. He is the Chair of the Sakai Project Magament Committee (PMC).  He also teaches popular Massive Open Online Courses (MOOCs) to students worldwide on the Coursera platform: Internet History, Technology, and Security and Programming for Everybody. He is a long-time advocate of open educational resources to empower teachers. In addition, he is the editor of the Computing Conversations column in IEEE Computer magazine that features a monthly article and video interview of a computing pioneer and is the author of the books, "Sakai: Building an Open Source Community", "High Performance Computing", "Using Google App Engine" from O'Reilly and Associate, and "Python for Informatics: Exploring Information". He often dabbles in media as a hobby, he has co-hosted several television shows including "Nothin but Net" produced by MediaOne and a nationally televised program about the Internet called "Internet:TCI". In what spare time he has left he can be found off-road motocycle riding, singing karaoke and playing hockey.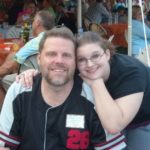 Chad Sinke – Chad Sinke is a Professional Electric Engineer who graduated from Lawrence Technological University with an Electrical Engineering Degree. He co-owns the Engineering firm R-Concepts Inc. in Howell MI. He enjoys taking on Engineering projects both inside and outside of work. In his free time he restores cars, does home DIY projects and watches movies. One project he had contemplated doing for years was the DIY Electric Vehicle. Hence, The Avenger-EV was born!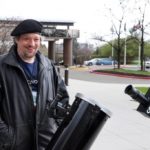 Bob Trembley – Bob's interest in astronomy and science was cultivated during the era of Jonny Quest, 2001, The Thunderbirds, Star Trek, the Space Race, and Carl Sagan. Bob has been a lifelong amateur astronomer, is the Outreach Officer for the Warren Astronomical Society, and a 4th year volunteer NASA/JPL Solar System Ambassador. Bob does a lot of astronomy outreach – he lectures about astronomy and space science, and sets up his telescopes at schools, planetariums, conventions, and other venues. Bob writes about astronomy and space science for the blog of the Vatican Observatory Foundation. Bob is fantastically interested in asteroids, and planetary defense – he has been peripherally involved with the Asteroid Day movement since late 2014. Bob is determined to improve the teaching of astronomy, space science, and space history throughout Michigan, and the U.S.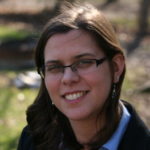 Kate Vajda – Kate is a Senior Security Consultant with Secure Ideas. She has 10 years of Information Technology experience with the last 4 years in Information Security. Kate utilizes her background in Linux system administration and network security to provide operational excellence, most recently at a Fortune 500 utility.   Kate is passionate about automation techniques for operational, auditing, and security related functions. She has considerable experience with the NERC/CIPv3 standards and developing processes and technical controls to assure compliance. Kate earned a Bachelors of Science Degree in Computer Science from Central Michigan University and the GCIH, GWAPT, GCIA, and GMON certifications.   She is also a teacher of Information Security at a local college, a member of #misec and involved in organizing and volunteering at Converge/Bsides Detroit, Bsides Indy, Defcon, Circle City Con, Grrcon among others.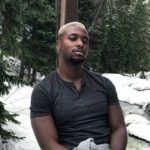 Baize White – Baize is an avid reader, podcaster, and aspiring author. He dreamed of being a director/producer, but through the writing community he was inspired to tell his stories a different way. This got him to start working on his own YA novel late last year. Baize is also 1/4th of Podcast of Color, a show where four queer friends of color share opinions on pop culture, as well as how they interact with the world in the bodies they inhabit. He regularly consumes nonfiction about the Golden Age of Hollywood and royalty, and his dream is to be a published author and Issa Ray's best friend.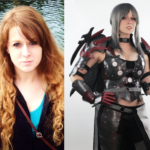 Claire Winn (Phazon Pixie Cosplay) – Claire started building cosplay armor to fulfill her dream of becoming Samus Aran, though she has yet to build a functioning plasma cannon.  In mid-2017, she launched her cosplay page, Phazon Pixie Cosplay, and her work has since been featured in CosplayZine magazine and on sites like Geek x Girls.  She loves tough armor builds for even tougher heroines.  Aside from cosplay, Claire is a freelance editor and aspiring SF/F novelist,  with an affinity for fantasy and cyberpunk.  Look for her on the cosplay and literature panels!