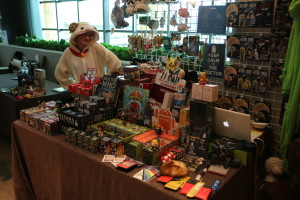 Penguicon's sponsors have contributed to our community each year by making possible things we wouldn't be able to do without them. In past years, Nuspire provided hundreds of glow in the dark cups with the Penguicon and Nuspire logos, to much celebration. Beaglebone sponsored our soda stand and provided demonstrations of their electronics. Specs Howard recorded video for us to use in future years.
About 1,600 people attend Penguicon every year, including entrepreneurs, prospective employees, sales decision-makers, and early adopters. If you're the right fit for our convention, promoting your product or service will build serious word-of-mouth among decision-makers and tech trend leaders. Fan-run science fiction conventions and open source software development are two communities that generate significant income for the things that they are passionate about. In order for that to work, we need to keep the cost for participants as low as possible.
If you're a part of making membership cost-effective (or providing value to those already joining us for the weekend), you'll put that network to work for your company. As a community, we are passionate users – when we love something, we are devoted to it, whether it's a flavor of linux or a comic franchise.  We welcome creative ideas for sponsorship arrangements. If you'd like more information about becoming a sponsor for Penguicon in 2018, please check out our sponsor detail document and email our Head of Communications and Sponsorship at communications@penguicon.org.