PENGUICON 2018 PRESS KIT
Penguicon 2018 Press Kit (PDF)
Details about Penguicon's history, demographics, classic highlights and 2018 features.
PENGUICON 2018 FLYER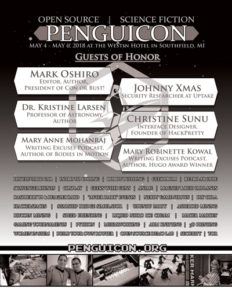 Penguicon 2018 Full Page Flyer (PDF)
Feel free to print the PDF version of this flyer and make it available in public places. (We recommend you first save the PDF and open it in a PDF viewer instead of attempting to print it from your web browser.)
The flyer is a full 8.5″ x 11″ in black and white. You can put the PDF on a flash drive and print it at your local copy shop – if you contact us at chair@penguicon.org with a copy of your receipt and a photo of the flyers in place, we may be able to reimburse you.
Please ask for permission before posting it in a store or other location requiring permission!