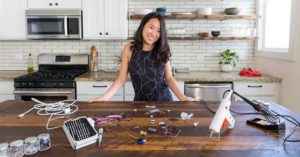 Like the insanely catchy chorus in Imagine Dragons' "Thunder," the time for a Penguicon 2018 Guest of Honor announcement has yet again come around!
Our fourth Guest of Honor is Christine Sunu!
An interface designer, Christine (per her Twitter bio) builds things. The things she builds vary, but her focus throughout it all is on interfaces hooking into human behavior and expectation. She believes the level of complexity in tactility, geometry, and human factors in connected interface design requires understanding and experience with people and interfaces from non-digital fields. Her multidisciplinary experience with the digital, physical, and human allows her to create effective and successful experiences for users.
Christine has implemented developer experiences and run IoT workshops, designed interfaces for patient motivation in high-stakes settings, made trending content on electronics, and created hardware and software for research in bleeding-edge fields. She started and runs HackPretty (read more about why she started HackPretty), built robots at BuzzFeed, run hackathons at Particle, just finished up Everyday Bots on The Verge (this was her favorite hack), and spoken at TEDx and Hackaday about the weird psychological line between alive and not-alive in technology.
Christine's yet another great Guest of Honor for May! Can't wait!