If you'd like to show your love for Penguicon by wearing a con shirt or affixing a sticker to your favorite computing device, we want to help!
ANNUAL LIMITED EDITION PENGUICON SHIRTS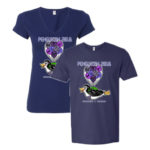 OffWorld Designs creates our on-site annual T-shirts.  In 2014, they sold around 100 Penguicon shirts to our convention attendees.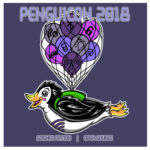 This year's art was created by Melanie Brooks – a penguin flying with the help of connectivity (our theme for the year), with a Wi-Fi symbol on the penguin's chest. A similar graphic will be on the cover of our souvenir book.  The back art was assembled by Scott Kennedy, using Melanie's work as inspiration.
PLEASE PRE-ORDER YOUR SHIRT.  OffWorld brings a limited set of sizes to the convention.  If you order before the convention, they will have your shirt available for you at the OffWorld booth. If you wait, you'll have to hope they have your size!
Pre-orders will be closed by April 20th.
YEAR-ROUND GEAR
General Penguicon shirts, stickers, posters, and more are available through RedBubble.com.
The background is a public domain image from NASA's Astronomy Picture of the Day! It's "Stars of the Galactic Center", by Susan Stolovy (SSC/Caltech) et al., JPL-Caltech, NASA 
We made these just to give our members something they can show off at other nerd occasions at any time, and for people who want to show their affiliation even if they can't make it to Penguicon to pick up one of your year-specific shirts. These general Penguicon shirts are not available in the dealer room during Penguicon.
WALLPAPER AND FACEBOOK COVERS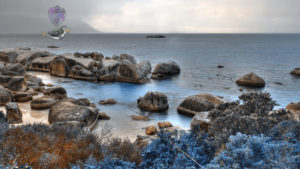 We have official Penguicon wallpaper! If you have any size requests or wallpaper style request, let us know, we're happy to make more.
We also have a number of Penguicon Facebook cover backgrounds
Try out our HD cellphone wallpaper!