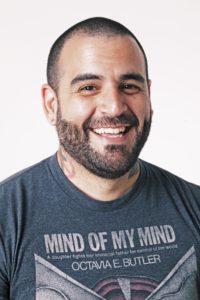 Many of you are already aware of the first 2018 Guest of Honor, but (as we gear up to announce more) we'd like to announce him again – Mark Oshiro!
Mark is the Hugo-nominated writer of the online Mark Does Stuff universe (Mark Reads and Mark Watches), where he analyzes book and TV series.
He was the nonfiction editor of Queers Destroy Science Fiction! and the co-editor of Speculative Fiction 2015 with Foz Meadows. He is currently the fiction editor for Efniks, an online magazine for queer and trans people of color (if you're interested in submitting a story, see http://efniks.com/submissions/) and also the President of the Con or Bust Board of Directors.
His first novel, Anger is a Gift (Amazon, Goodreads), is a YA contemporary about queer friendship, love, and fighting police brutality. It will be released by Tor Teen on May 22, 2018.
You can check out Mark further on Patreon, Twitter, Facebook, and Instagram.
When he is not writing, crying on camera about fictional characters, or ruining lives at conventions, he is busy trying to fulfill his lifelong goal: to pet every dog in the world.
We're thrilled Mark is joining us in May and looking forward to it!
Stay tuned, True Believers! More Guest of Honor announcements are coming very soon!